Since 2011, New York State's streamlined Consolidated Funding Application ("CFA") has provided access to dozens of state funding sources via a single application, abolishing bureaucratic delays and expediting funding.
Applying for a CFA is a complicated process, however, involving lengthy online registration, participation in meetings, and a highly detailed application incorporating sometimes dozens of documents.
Choice Words has been filing CFAs since its inception, and its associates have become experts at navigating the system. They've come to specialize in the CFA process, and are known throughout the Hudson Valley as the grant writers for the job. Choice Words can provide a team of professional grant writers to expedite the labor-intensive CFA application process, and deliver results.
Our success rate speaks for itself: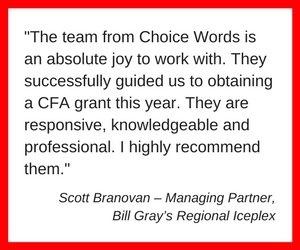 2013 – 3 CFA wins: $1.4 million
2014 – 7 CFA wins: $4 million
2015 – 8 CFA wins: $6.5 million
2016 – 12 CFA wins: $8.3 million
2017 – 9 CFA wins: $7.3 million